Sarah & Duck: Christmas Collection
Join Sarah and Duck as Bug shows them where to find special lights for their Christmas tree, follow a trail to discover who left them some exciting Christmas presents and take a speedy, snowy ride in Scarf Lady's bobsleigh! They also dress up as each other to perform a play and after Duck decides to migrate, Sarah remembers the day she and Duck met.
Picture gallery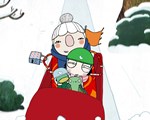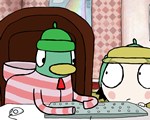 Showing as part of
Enter a world of Christmas classics, festive favourites, and enchanting new releases.
Find out more